This website allows you to apply and register your obligatory eVisa before traveling to Bahrain. Our service assists you through the eVisa process and responds to each inquiry regarding the form and related issues. The application process can take a few days. Notice: We are an agency not affiliated to the Government website. Our Agency helps individuals and legal entities with their administrative travel paperwork.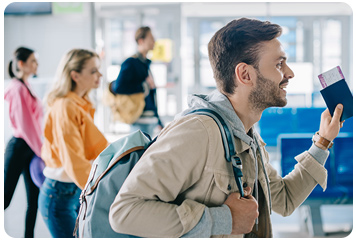 Bahrain Visa Information
Bahrain eVisa is a document that you need to apply for in order to be allowed to travel the Kingdom of Bahrain.
There are three types of visa provided by this site:
The Single entry visa with staying up to 14 days
The Multiple entry visa with staying up to 30 days
The Multiple entry visa with staying up to 90 days
All Bahrain eVisa types come with the service charge and a card handling fee, although the amounts are different and depend on the type of the visa you are applying for.
Regardless of the selected type of visa, you will have to enter Bahrain within the visa validity time; which is three months from the date of approval. Applying online for a Bahrain eVisa is the simplest and the quickest way for you to obtain a permit to enter Bahrain.
eVisa allows you to visit Bahrain for different purposes:
holiday, business, study, medical, motorsports events, charity/NGO, sport, journalism, transit, exhibition, conference and others.
In the case of transit e Visa to Bahrain, all eligible travelers must obtain an eVisa, regardless if they plan to leave the airport's transit area or not.
An eVisa can be obtained easily anywhere with an internet connection and it saves time that you would otherwise spend on visa applications at airports and offices.
Bahrain eVisa Requirements
If you need to know whether you are eligible for an eVisa to Bahrain or not, there is a list of countries and territories whose passport holders may apply.
If you do get qualified for applying online, then it will be much easier. Otherwise, you will be required to visit Bahrain embassy to get a regular consular visa or multiple visas for a group.
If you, as an applicant, are eligible for eVisa to Bahrain, then you need to attach a copy of your passport; the applicant passport expiry date must be valid at least six months from arrival in Bahrain - it is the conditioned length of validity provided by Bahrain's Immigration office. Travelers are also required to attach an onward ticket, which is confirmation that they intend to leave the country.
Certain nationalities (marked with the **) must also attach a copy of the hotel bookings in the Kingdom of Bahrain or alternately a copy of the CPR Reader's - unified single personal identification card if you are staying at friend's or relative's house. These nationalities must also provide a stamped copy of the bank statement covering the last three months declaring that they have the funds not less than the equivalent of BD300 which is about 800 USD.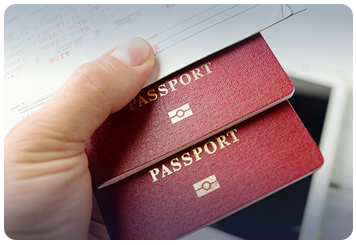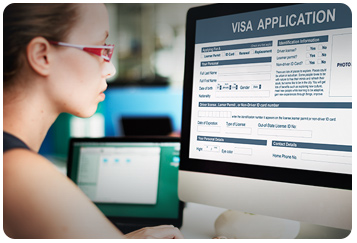 Application form for eVisa to Bahrain - Steps to apply
People applying for the Bahrain eVisa are required to fill out a form on the internet. This procedure is super easy.
Firstly you will be asked about your travel details - a type of visa, your purpose of visit, and approximate date of entry.
The next step of the application form is the basic personal data, such as full name, nationality, gender, date of birth, and contact details.
Then you must provide the necessary passport details and upload the required files.
Note: Please pay the most attention to the details while filling out your form to avoid any possibility of rejection of your application.
If you have successfully submitted a complete application form on the website and paid for it, it should take around a few days for you to get the results. Please, remember that the processing of the application, in some cases, may take a little longer than usual.
Once your application is examined and approved by the authorities, we will send the digital copy of your visa to you via e-mail. You can then have a printout of it and carry it with you to the airport. Also, you can save a digital copy of your visa on your smartphone, tablet, or laptop, whichever you can show it to the airport authorities.
We wish you a Happy Journey to the Kingdom of Bahrain. Enjoy your stay!
Bahrain eVisa FAQ
Unless you are a visitor from one of the visa exempt countries - Kuwait, Oman, Saudi Arabia, or the United Arab Emirates - or you are from any of the listed eligible countries, you cannot get the visa in advance for the Kingdom of Bahrain. The citizens of the countries below, only, can get the Visa on arrival for up to 1 month.
Also, we suggest you check the updated list of countries before applying for the Bahrain Evisa.
For successful approval, it usually takes at least a few days to get your applications processed and validated by the authorities at the kingdom of Bahrain. In some cases of exceptions, this process might take a bit longer than usual, since visa processing time may vary depending on the nationality of the applicant, the purpose of the stay and local visa issuing conditions. So if you are planning to visit Bahrain in the upcoming future, then you are advised to apply for the eVisa one week before your desired date of travel.
This way you can avoid any corrections and delays. We suggest you to double-check the information you are providing to be accurate and up to date. If you don't want any complications with the process, get registered in advance for a smooth validation workflow.
Any information obtained at each stage of the application and the eVisa issued at the end of the process are stored in high-security systems. Our website maintains a high level of security standards and strict protocols to protect your vital pieces of information.
The very first thing that you will need to do it is to check whether your country is on the list and makes you eligible for obtaining Bahrain eVisa or not. There is a long list of eligible countries and territories, whose passport holders can apply for entering into the kingdom of Bahrain. Also, Bahrain visa for GCC residents is even easier to apply for, if they want to visit the place with family and friends for a period of time. If it is not the case, then you will need to apply for a regular consular visa from the Bahrain Embassy, at the kingdom of Bahrain or in your respective country.
If you choose to apply for an eVisa with us, you will receive an e-mail containing the visa and all the necessary details. And, at last, you can print a copy of the approval and have a digital copy saved on your phone and carry it with you whenever you travel. When you arrive in Bahrain, your eVisa will be accessible to the passport officer who will welcome you to the country. Visitors with dual nationality should take care to bring the correct passport when preparing for the trip.
If your application for the visa gets rejected for any number of reasons, you need to contact NPRA or the nearest Bahrain Embassy.
The price for obtaining the visa depends on what type of Bahrain visa you are looking for. If you are applying for the Bahrain eVisa from our site, then you will need to pay one of the following fees as per your requirement:
69 EUR if you go for the Single Entry Visa (14 days of stay)
109 EUR if you go for the Multiple Entry Visa (30 days of stay)
249 EUR if you go for the Multiple Entry Visa (90 days of stay)
These are extremely reasonable and some of the cheapest prices in the visa industry available. You can pay the essential fees using the following payment methods: credit card, and debit card.
All the payments and transactions will be done through a secure session, authorizing credit or debit card over the internet. It has been approved by the providers of the credit and debit cards that you can use them on this site. All the information is encrypted.
This website uses SSL (Secure Socket Layer or HTTPS) protocol for all the data-transmission from your device to our secure server. It is to ensure the security and privacy of your sensitive and critical information.